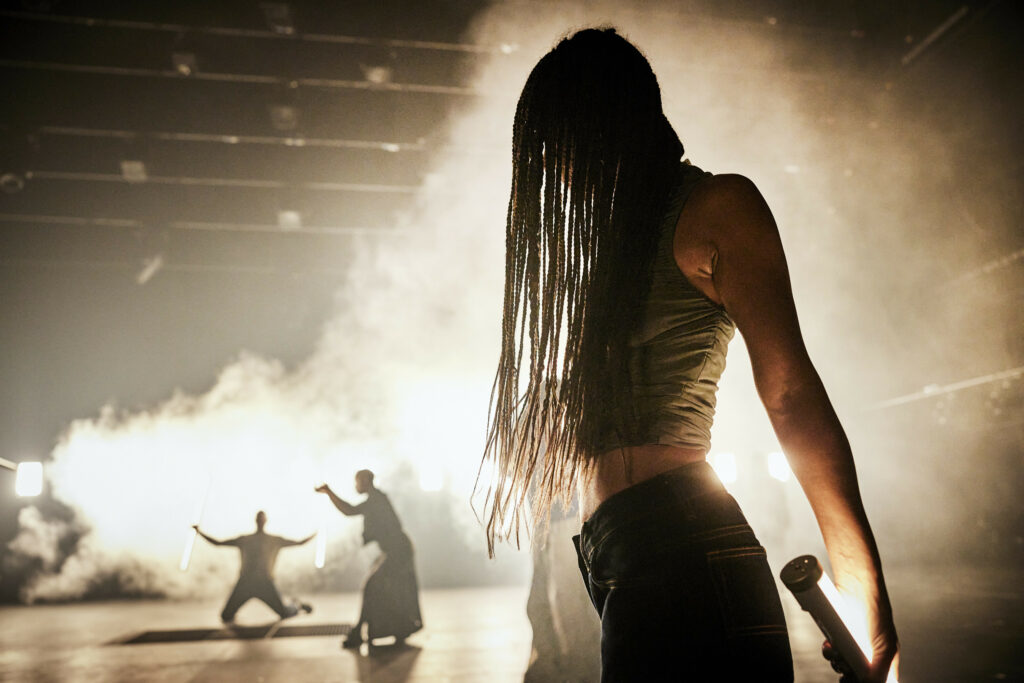 "The groove begins with a context, a soundscape, an ambiance,
A rhythm that sets in unannounced, 
an instant to seize, to suspend.
Some experience it from the inside, others visualize it or are simply into it.
I live it, I can't explain it.
Pure selfishness, a moment that belongs to us and sets the tempo, but that leads to sharing after a while.
We are together, we celebrate each other with a glance, a gesture, or a syncope.
To each their own groove."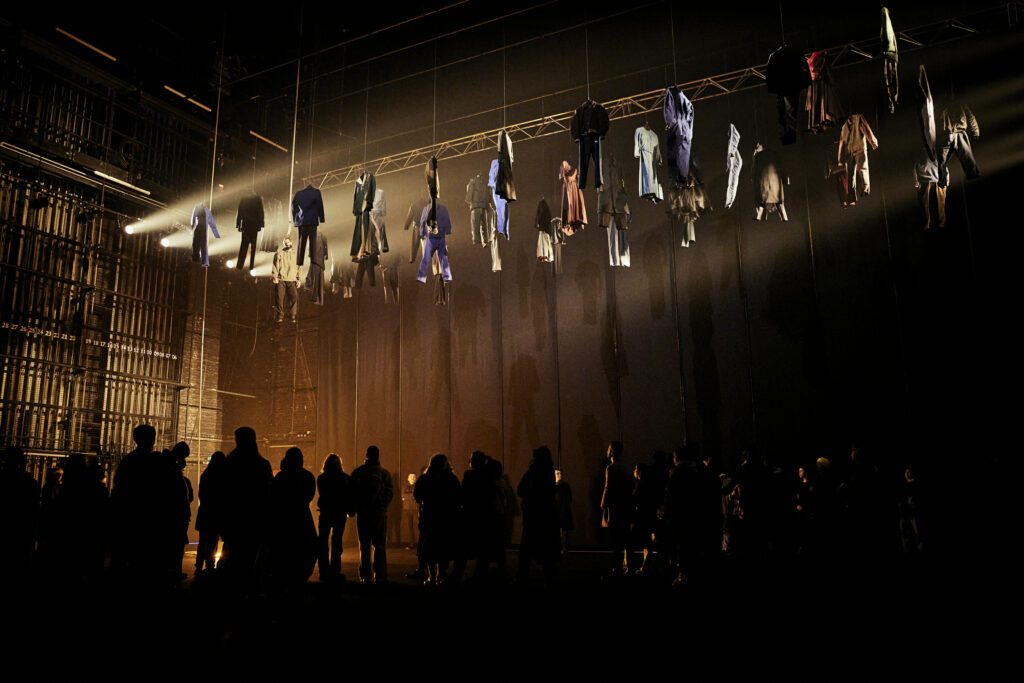 G.R.O.O.V.E. is a deambulatory experience irrigated by the artistic approach led by Bintou Dembélé for over twenty years. Choreographic excerpts from the Opera-Ballet Les Indes Galantes, projections of short films on cultures of dissent from the margins, performances in concert form, in baroque form take over the space. The light art by Benjamin Nesmet recreates street lighting in the opera. Guided by the voice of Célia Kameni, the public is invited to give itself over to Charles Amblard's guitar and lapsteel, and to follow the street dancers to Bintou's side. Together, they take over and redirect the space, to invite you to join them and to celebrate one another.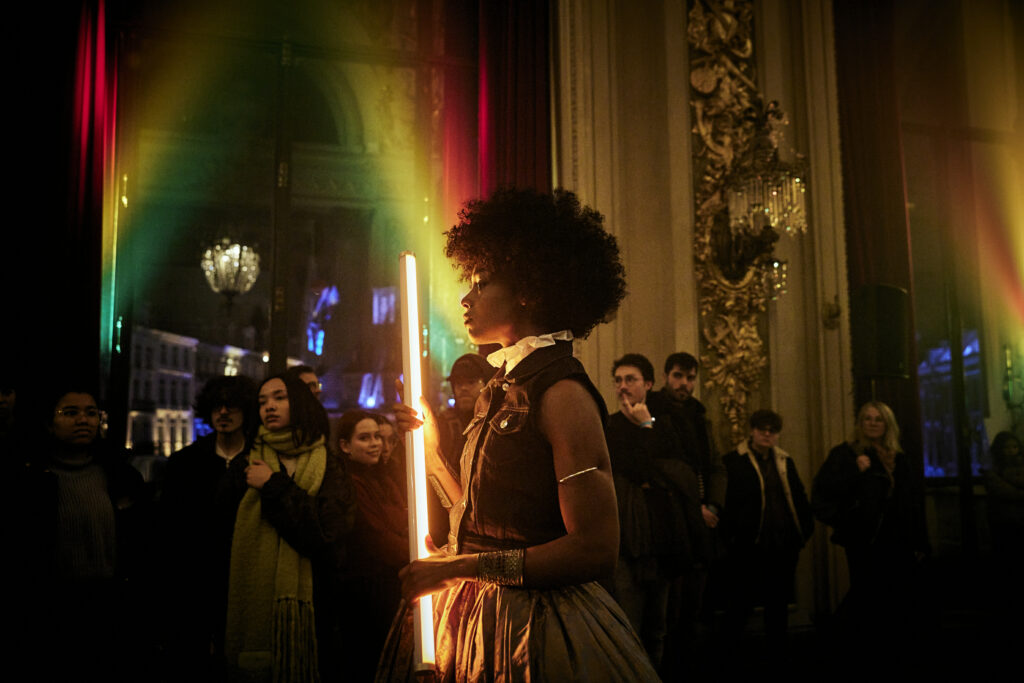 Year : March 2023 
Length : Around 180 minutes 
DISTRIBUTION 
Conception, choreography and acting // Bintou Dembélé with Wilfried Blé « Wolf » , Guillaume Chan Ton, Bintou Dembélé, Marion Gallet, Cintia Golitin, Adrien Goulinet, Célia Kameni (alternating with Cindy Pooch), Mohammed Medelsi « Med », Alexandre Moreau « Cyborg », Salomon Mpondo-Dicka « Bidjé », Marie Ndutiye, Michel Onomo « Meech », Juliana Roumbedakis, Féroz Sahoulamide, Aisi Zhou (alternating with Moïse Kitoko) and Charles Amblard (guitare and lapsteel), Célia Kameni (voice), with the ground-breaking participation of the Treizième Cercle Collective (Marseille).

Recorded Music // Jean-Philippe Rameau 
Les Indes galantes (extracts), with the Cappella Mediterranea Ensemble and the Namur Chamber Choir, direction by Leonardo García Alarcón 
David Lang I lie, extract from The Little Match Girl Passion, by the ensemble Ars Nova Copenhagen, direction by Paul Hillier 
Kronos Quartet Pieces of Africa: Ekitundu Ekisooka I and II, White Man Sleeps, Wawshishijay 
Musical Creation and Performance// Charles Amblard
Voice // Célia Kaméni
Lighting// Benjamin Nesme
Costumes // Anaïs Durand Munyankindi
Artistic Coordination// Anthony Cazaux
Stage Management // Philippe Mortelecque "Spike"
Photographs // Christophe Raynaud de Lage 
PRODUCTION
Production // La structure Rualité, Festival de Marseille 
Coproduction // Opéra de Lille, Ateliers Médicis Clichy sous Bois/ Montfermeil, ExtraPôle Provence-Alpes-Côte d'Azur*, Palais de la Porte Dorée Paris, Centre Pompidou-Metz, Ville de Lille – Maison Folie Moulins, Ville de Champigny 
* Production platform supported by the Région SUD Provence-Alpes-Côte d'Azur bringing together the Festival d'Avignon, le Festival de Marseille, le Théâtre national de Nice, le Théâtre national de Marseille La Criée, Les Théâtres, Anthéa, Châteauvallon-Liberté Scène nationale and la Friche la Belle de Mai 

With the kind permission of France Musique to use extracts of the Les Indes galantes recorded in October 2019 at l'Opéra National de Paris 

The performance G.R.O.O.V.E. grew out of two important engagements entrusted to Bintou, the first at the European Night of Museums at the Palais de la Porte Dorée in May 2019, and the second at the closing event for the exhibition «Opéra Monde; la quête d'un art total» (« Opera World: The Quest for a Total Art ») in January 2020 at the Pompidou-Metz Center under the title Les Indes galantes #3, performance.